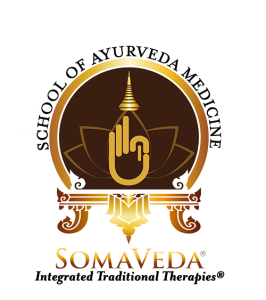 SomaVeda School of Ayurveda Medicine
Doctor of Philosophy Sacred Ayurveda Medicine (Ph.D. Ayurveda) Diploma Program
Accreditations, Approvals and Recognitions
Ayurveda is the Mother science and healing art of India and S.E. Asia (India, Sri-lanka, Burma, Nepal, Bhutan, Myanmar and Thailand).
Those exceptional students wishing to complete the requirements for Ph.D. Ayurveda suitable for US and International recognized Licentiate, may apply to our post-graduate Degree Program. This Traditional Ayurveda Philosophy Doctoral Diploma/ Degree Program is Post-Graduate and may be applied for after completion of DSNM (Doctor of Sacred Natural Medicine: Specialty Ayurveda/ Yoga Therapy) requirements or with substantial education and or current medical background (MD, RN, Chiropractor, etc.)  as a substitute for the PNMA or  Associate in Arts in Traditional Natural Medicine Ayurveda Degree Diploma Program.
Our Doctor of Philosophy (Ph.D. Ayurveda) Diploma/ Degree (Physician Diploma) qualifies for NAIC, AAPNA and or SMOCH recognitions, vocational and or Medical Licentiate Under Doctor of Clinical Therapy DPT/ DCT depending on final areas of clinical specialization. For details and cost for our most advanced Diploma program Click Here!
Affordability
Because our Ph.D. Ayurveda College Degree program incorporates distance learning with conventional in-class residential training and course work, our fees don't have to support large campuses, high overheads and excessive administration salaries hence, large savings are passed on directly to you the student. In fact, we can save you from $20,000.00 to $160,000.00 in fees compared with other institutions offering similar Degrees.
Convenience
With SomaVeda College of Ayurveda Medicine much of your study is done from home, in your own time, on your terms. This means there is no need to give up your current job, while you study Natural Medicine. Study from ANYWHERE in USA and the world!
Course Goals and Objectives: Click here for more DSAM learning objectives!

The entire course of study prepares one to practice Ayurveda and Yoga Therapy as primary care, natural medicine. The course programs are also designed to provide students with adequate preparation to apply to the various organization which offer accreditation, registrations, recognition's and or licensing such as NAIC, AAPNA, ANCB, AADP, SMOCH, and ESPOCH (Ecuador). To ensure continued career success, the graduate will continue to learn new and current information related to techniques, trends, and methods for career development in natural medicine and related fields. The graduate will consider this continuing education a fundamental part of professional growth and development.
For specific details and pricing please contact the office by EMAIL or call (706) 358-8646
Doctor of  Philosophy Sacred Ayurveda Medicine (Ph.D.) Program Studies
Our teaching approach gives the practitioner a more than affordable alternative to new vistas in education by combined resident studies and distance learning. These are not ordinary courses with ordinary content. Each course is designed to be a life changing ascent towards the goal of becoming a physician of natural medicine.
Online Academic Programs
NAIC: SomaVeda School of Ayurveda and Pan American School of Natural Medicine (Nevis, West Indies) offers a wide range courses in both the Graduate and Undergraduate programs. Undergraduate courses have course numbers 499 and below. Graduate courses have numbers 500 and above. Consult with the Dean prior to enrollment to make certain that your course selection will meet your degree or diploma requirements and that you satisfy all prerequisites for the Diploma or Doctorate program. Each course description includes all prerequisite requirements in bold. Any exceptions or exemptions to these requirements must be approved by the Academic Dean.
For a complete description of courses and cost, Please Click Here!
The State of Florida Department of Education


Florida State Board of Independent Colleges and Universities
Native American Indigenous Church: SomaVeda College of Natural Medicine: School of Ayurveda Medicine operates under authorization, as a degree granting institution through exemption, by the Florida State Board of Independent Colleges and Universities under Section 1005.06 (1) (f), FLA Statutes. The state, like other states, does not require accreditation or theological accreditation for our religious education based programs.
SomaVeda Integrated Traditional Therapies®, SomaVeda®  are a Federally Registered Trademark/ Servicemark and proprietary Intellectual Property, All World Rights Reserved.